As you learned from my last blog about pulling together a new backpack design, writing a pattern is a very, very long process – at least when I do it. But writing the pattern does not end with the last period.
Every pattern needs a cover
Fabric
Picking out fabrics to make sample bags is the first step.
It needs stand out but not look too wild and crazy.
The fabric has to speak to the potential customer.
It has to be appropriate for the age group for whom they'll be making the backpack. In this case, the bag's size will work well either for an adult or child over 4 feet tall.
The fabric should be reasonably current. For this bag, I chose the gray and cream for us gals and the fluttery butterfly for a much younger version of ourselves.
The Photograph
Once several bags have been made it's time to consider the cover photograph for the new bag design.
Setting
Lately I'm a fan of lifestyle types of images, showing the bags in some kind of everyday setting.
However, it's got to be a nice setting that does not take away from the focus, which is the bag itself.
Models
Ideally, I wanted a mother and daughter combo for my image. However, I don't know any mothers at the moment with daughters the right age.
Driving home from taking orders to the post office I noticed appropriate-aged kids being picked up by their Moms after school at bus stops. Nope, that wouldn't do – I don't want to be creepy.
Last Saturday after yoga class my husband and I headed over to the local Food Basics grocery store. There, just by chance I spotted the most perfect Mom and daughter. I could not have wished for a better match.
Sadly though, one does not approach random strangers in grocery stores especially when dressed in yucky old sweats with an unshaven husband in tow. My perfect models waltzed off into the parking lot and left, never knowing how close they might have come to stardom.
Rob suggested I should always have a couple of pattern covers in my purse and bring along my model release forms everywhere I go in case I met up with another perfect duo.
If I can't find models, I have to do it myself
He could sense how deflated I was to have missed out and suggested we just go find a bench and take some pictures of the backpacks. The fog had cleared a bit outside so we gathered up the backpacks, the camera and headed off to the local park.
The Park
With it having rained the previous few days it was pretty sodden but we took some pictures and used my broad back to take a few modeled shots. I went home to check the images.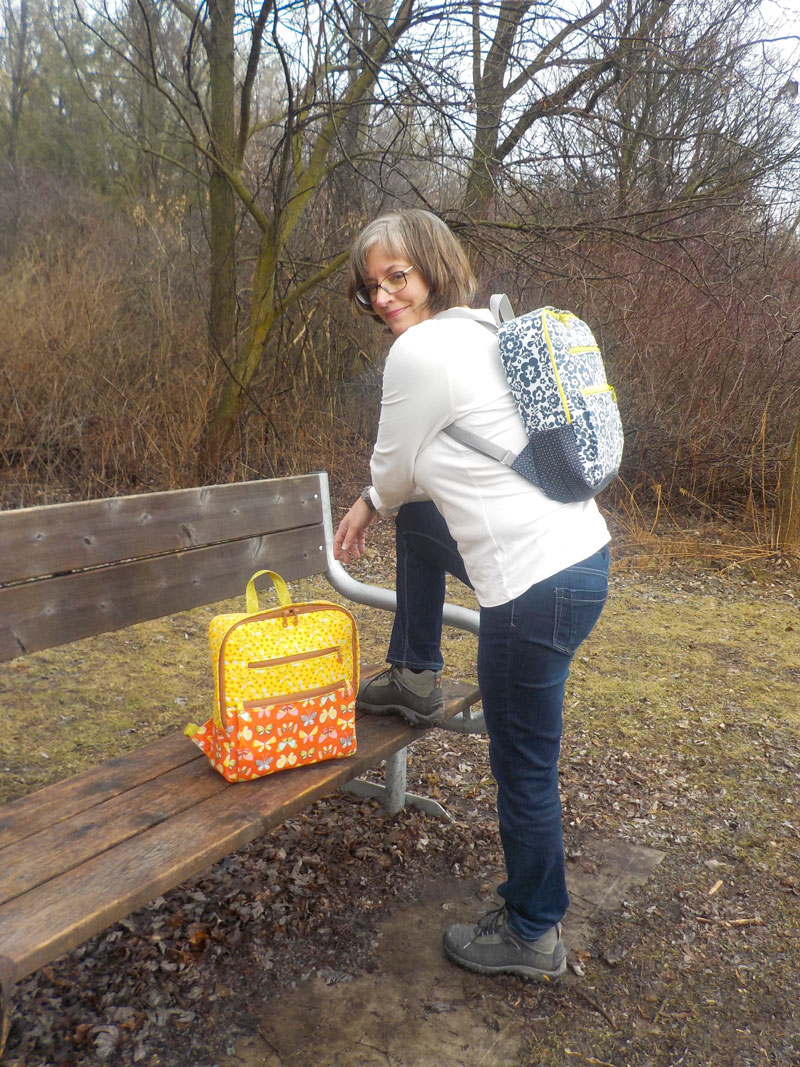 Reality always sets in pretty heavily when you look at your own image. Gosh I have a broad back, gosh I have a broad middle. And there are a few other bits that could be whittled down somewhat too. I worked on a couple of the shots though with the programs that I have on my Mac.
The Swamp (yes, you read that right – the swamp)
The next day, Sunday, I hauled Rob out the door again. This time to visit the local swamp.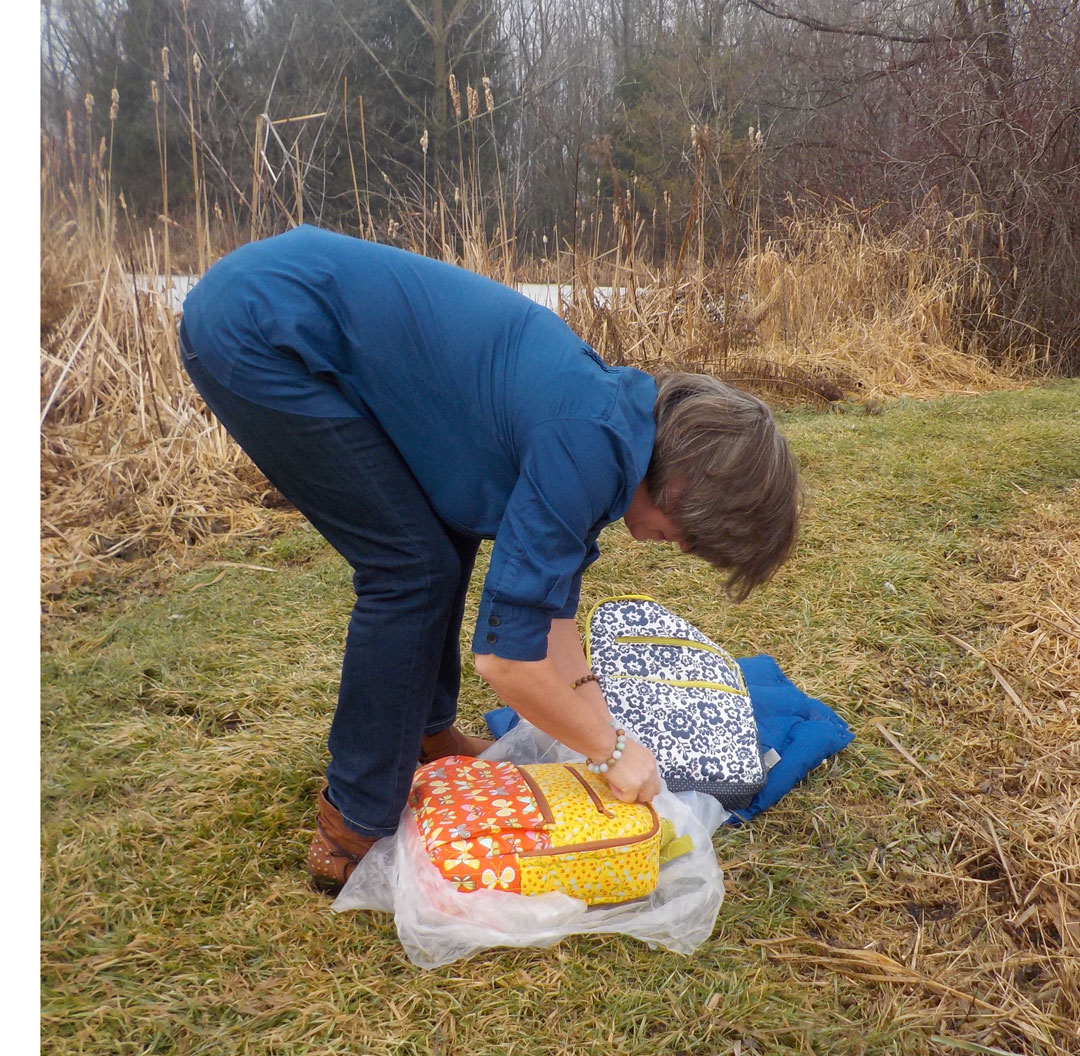 The nice thing about the swamp is there are no distracting buildings, signs, or anything else to distract from the photo. Rob took a lot of images and we drove home together hoping for the best.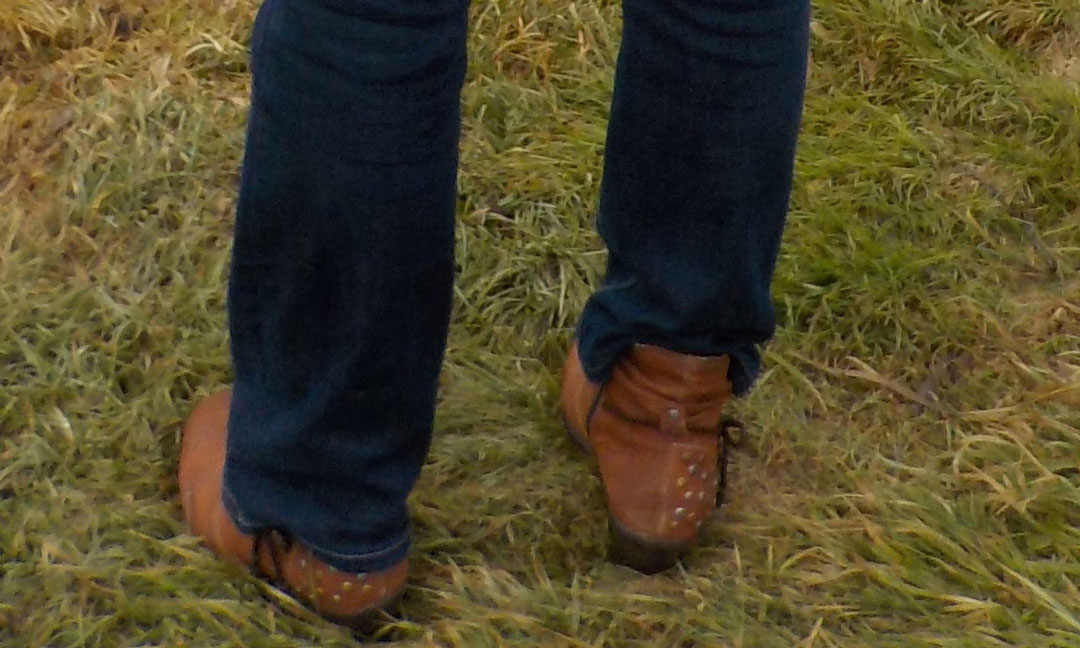 Upon checking out the pictures I noticed all of them had my right pant hiked up over my boot. Ugh. Rob was pretty good about making sure the backpack was straight, the wrinkles in my clothes were okay and that my arms and legs were not looking weird, but he had missed the boot.
Back to the computer program to either crop out the boot or photoshop more pant leg into the picture. I did both but decided to crop in the end.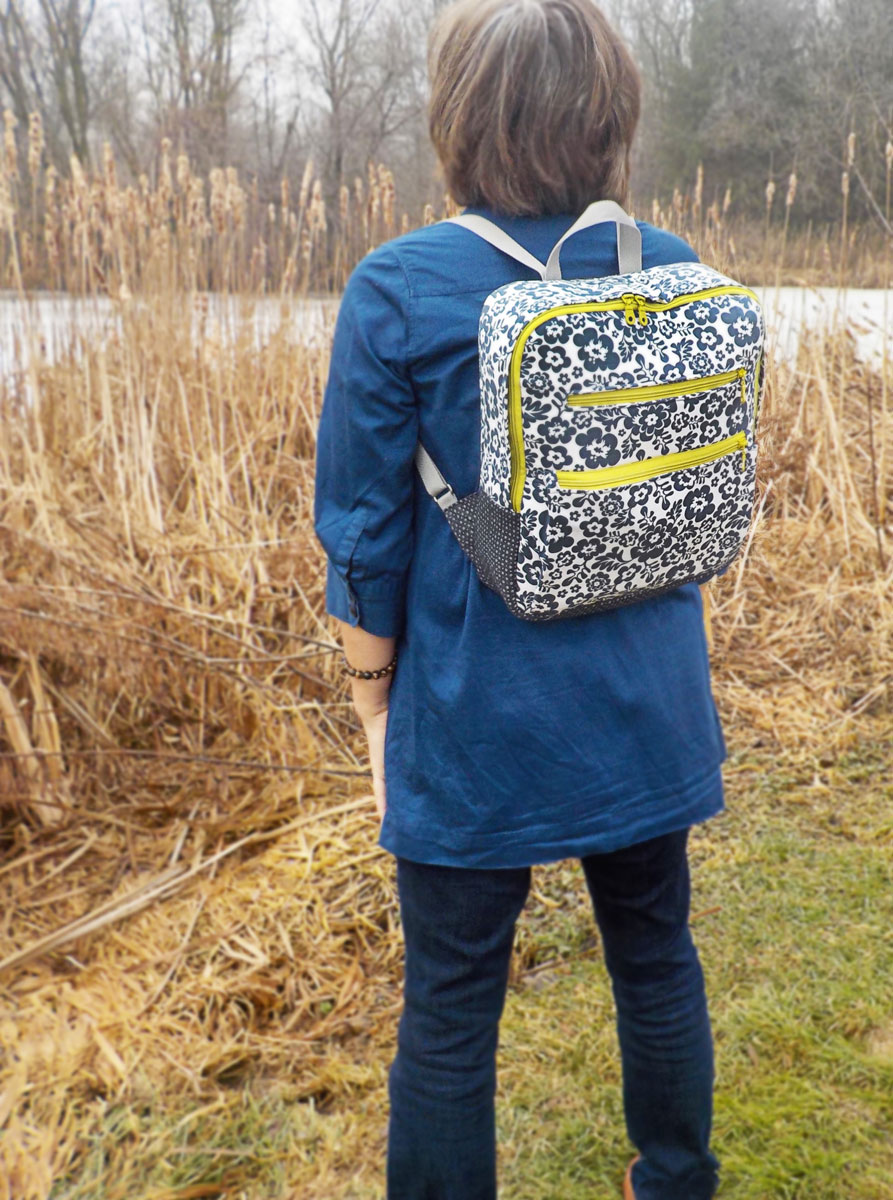 So after all of that running around I ended up putting the grownup version on the front cover (less the boot) and the children's version on the back cover before sending the whole shebang to my editor for a final check. It should be back this week sometime, and then the cover for the new bag design is finished.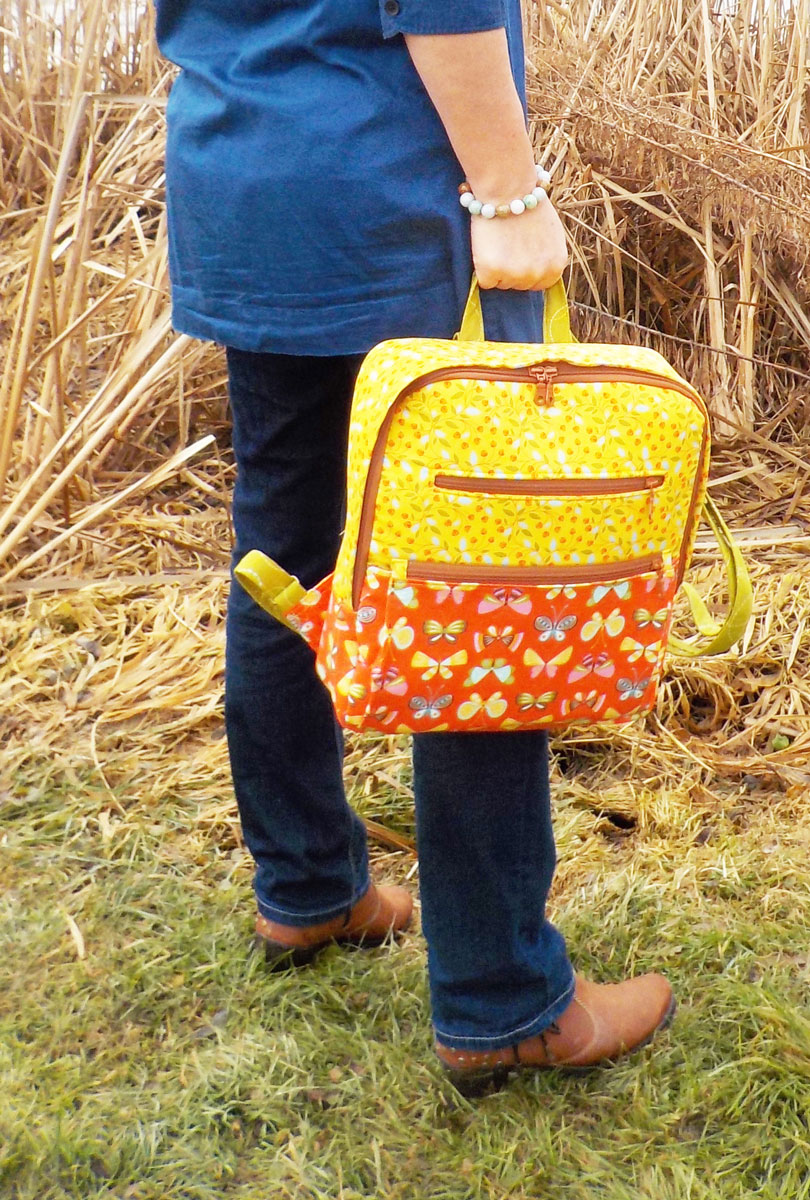 I know that after sending out this blog I am likely going to be inundated with Moms and their daughters wanting to model. All I can say is – where were you last week when I needed you?!
Cheers!
Broad-backed Brenda