Ooh La La, You Look Like a Movie Star – and it didn't take an hour to untangle your jewelry!
I  was having quite a time of it this week, updating my picture on my online store to something more current. If you don't understand computer code it's just no fun.  Actually, the picture itself is not that up-to-the-minute.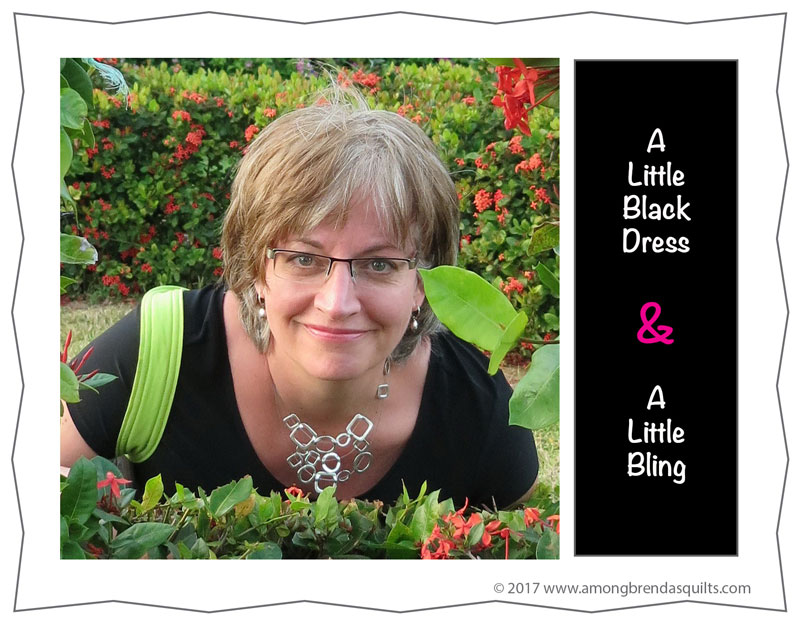 It's a picture of me taken last year on a trip to Cuba. I'm peeking through some flowered shrubbery at our hotel and my Mom took the picture.
Dressing for dinner is fun, especially if you have a bit of jewelry to wear
It's kind of a nice one; we were on our way to dinner, all dressed up and made up.  I wonder if I'm fond of it simply because somebody who loved me took it. I look 50% better than I normally look, in my little black dress with a healthy dose of  faux silver around my neck.
Sitting in the chair at the hairdresser's earlier in the day Keri, my hope and salvation for all things hair related, mentioned that she was planning a trip to the Dominican Republic. This brought up all kinds of vacation reminiscences and we both came to the agreement that dressing up for dinner ranked as one of the most appealing things about travel.
Part of dressing up is adorning ourselves with a bit of bling, just like you see in my image.
Jewelry can end up all over the place when you travel
In the past, traveling with jewelry has been a bit messy and disorganized.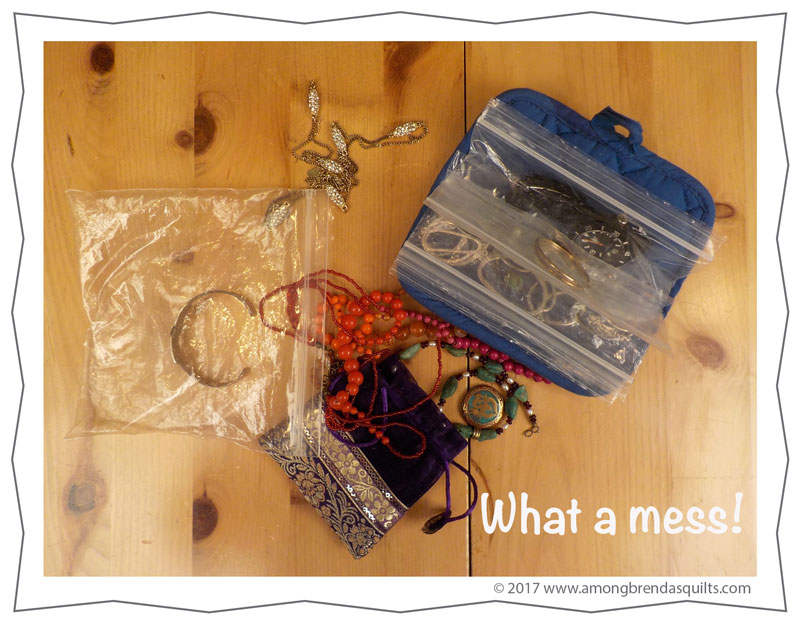 I would place most things in zip-lock bags. Not exactly a posh Martha Stewart thing to do. I also once made a DIY project that consisted of 4 zip-lock bags stitched into a potholder which buttoned to close.
As you can see, while somewhat functional, this was definitely not an upscale look.
I wanted a way to keep my jewelry organized while traveling
This year I went to Cuba again and before setting out I challenged myself to design a travel jewelry bag to make for myself (and for you) that would keep everything together, secure, visible, organized and great looking.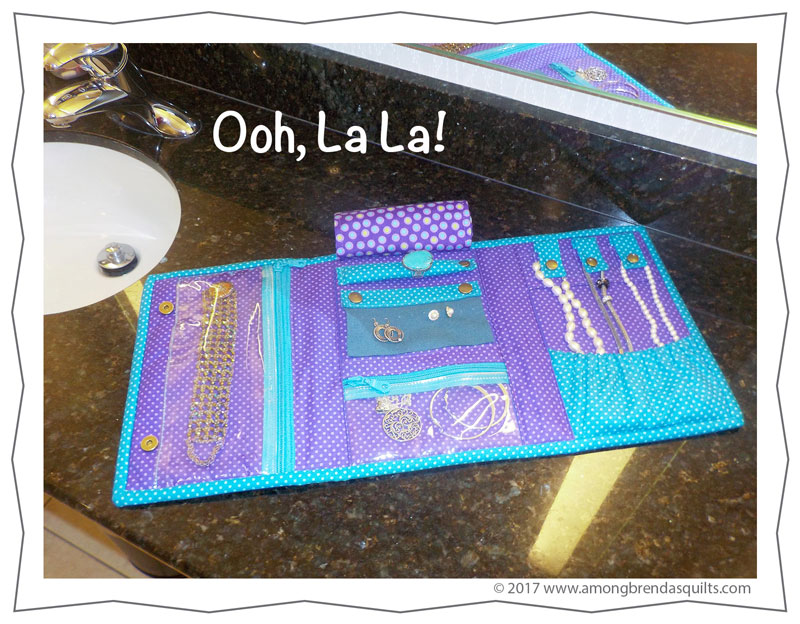 Watches, Bangles and Earrings
As you can see there is a place for everything, and everything's in its place.  There's a see-through zippered watch and bangle pocket and another vinyl pocket just for hoop earrings.  The earring hub snaps off so you can easily manage putting post and wire earrings through the hub with their safety backs at the back.  The hub can be made several ways, using fine mesh – like pet screening or using wool felt.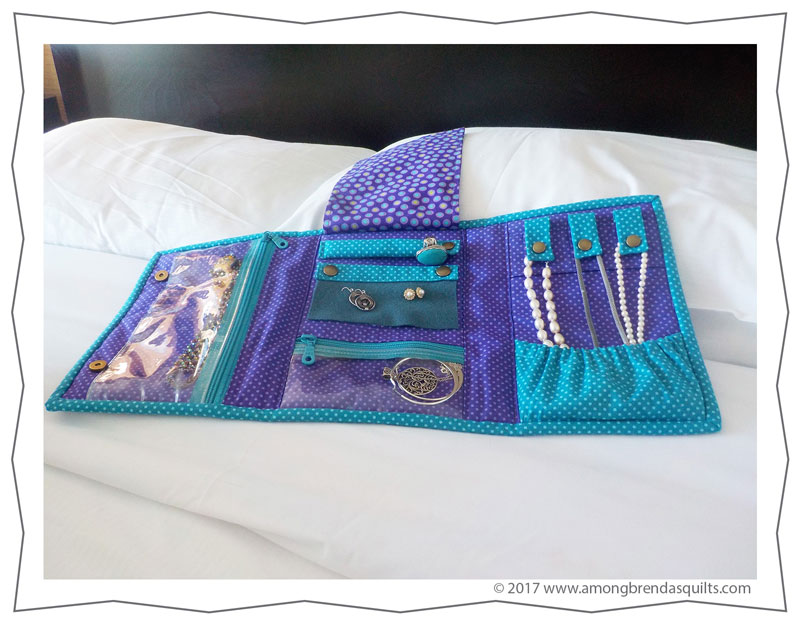 Rings and necklaces
Rings need a home too, and the snap-to-close ring finger keeps them in place and ready to add a little sparkle to your night.  Necklaces are particularly hard to transport as they always seem to tangle up. The snap-down necklace clasps keep everything sorted and the roll down bling protector stops any rubbing and catching between the rings and earrings and the necklaces.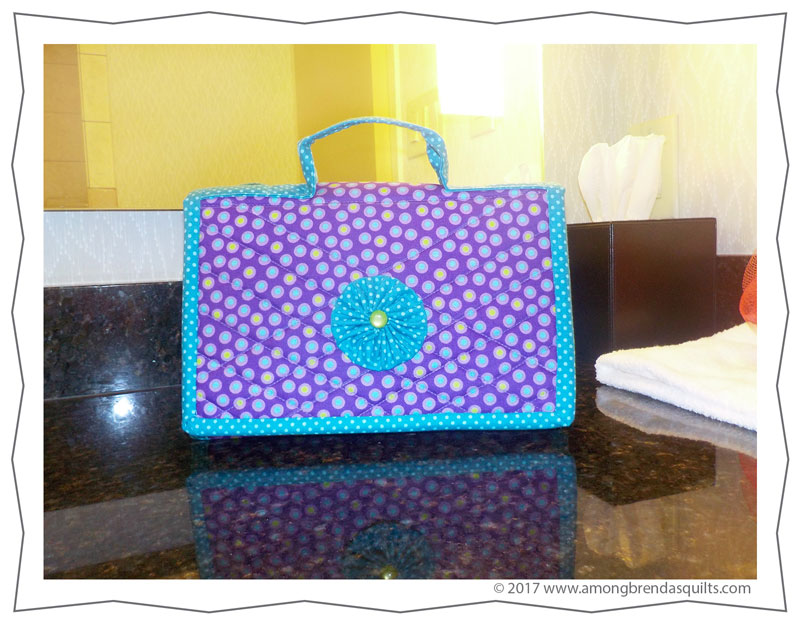 Make this jewelry travel bag for yourself
And the beauty is you can make the Ooh, La, La Bag for yourself, better than you could buy, and you can make it for others in your life that you love.  My slogan for the new bag is "You'll feel like a movie star when traveling with Ooh La La".  And it's true, you do! Happy travels, darling!
Resources
Making this bag requires working with vinyl and snaps, so I've created a couple of videos to help you out if you don't have experience sewing those.
These tutorials at Make Bags With Brenda show you how to use a teflon foot to sew vinyl, and how to attach snap fasteners.