I have been obsessed with cutting up fabric and stitching it back together since I was a child. I have a degree in Textile Science and an interest in art and anthropology. I spent my career years as a Home Economics teacher. Now I spend my time stitching wall hangings, designing patterns and teaching textile art.
I exhibit internationally, sell my works at local fine art shows, do a few commissions, and I ship my patterns across Canada and into the USA. My company is Bent Pin Creations. Fabrics are intoxicating – the soft textures, the glorious patterns and the lively colours.
I dye or paint much of the fabric I use. This is best way to produce a perfect sky, the variations in water, and multi coloured foliage. Canadian landscape topics: big trees, (cedar, fir, arbutus), rocky ocean shores,bears, eagles, lighthouses and old buildings are my subject matter. Currently, I am designing for the Row By Row project. I often work from my own photographs. I am inspired by the Group Of Seven. BC is beautiful, rich, and environmentally important. I am lucky to be able to live here and I recognize the importance of cherishing and preserving our habitat. Stitching a wall hanging is a satisfying way of honouring our corner of the earth.
Artist's Statement
I am fortunate to live on the west coast of British Columbia. We have lush forests that are shady and cool. They provide habitat for many animals and plant species, they control rainfall runoff, and they are culturally important to the First Nations people. They are threatened by overly zealous logging industries, pipelines and other economical pursuits. I hope their value as a carbon sink is realized before its too late.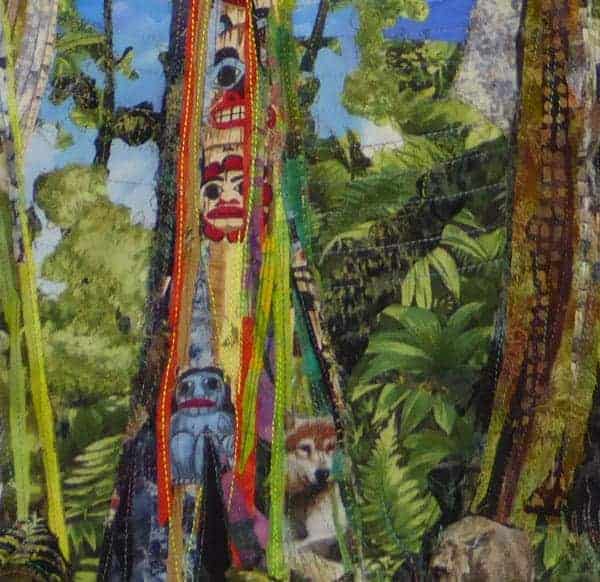 Find out more about the Canadian Group and the TAQS show, along with links to all the artist's profiles.